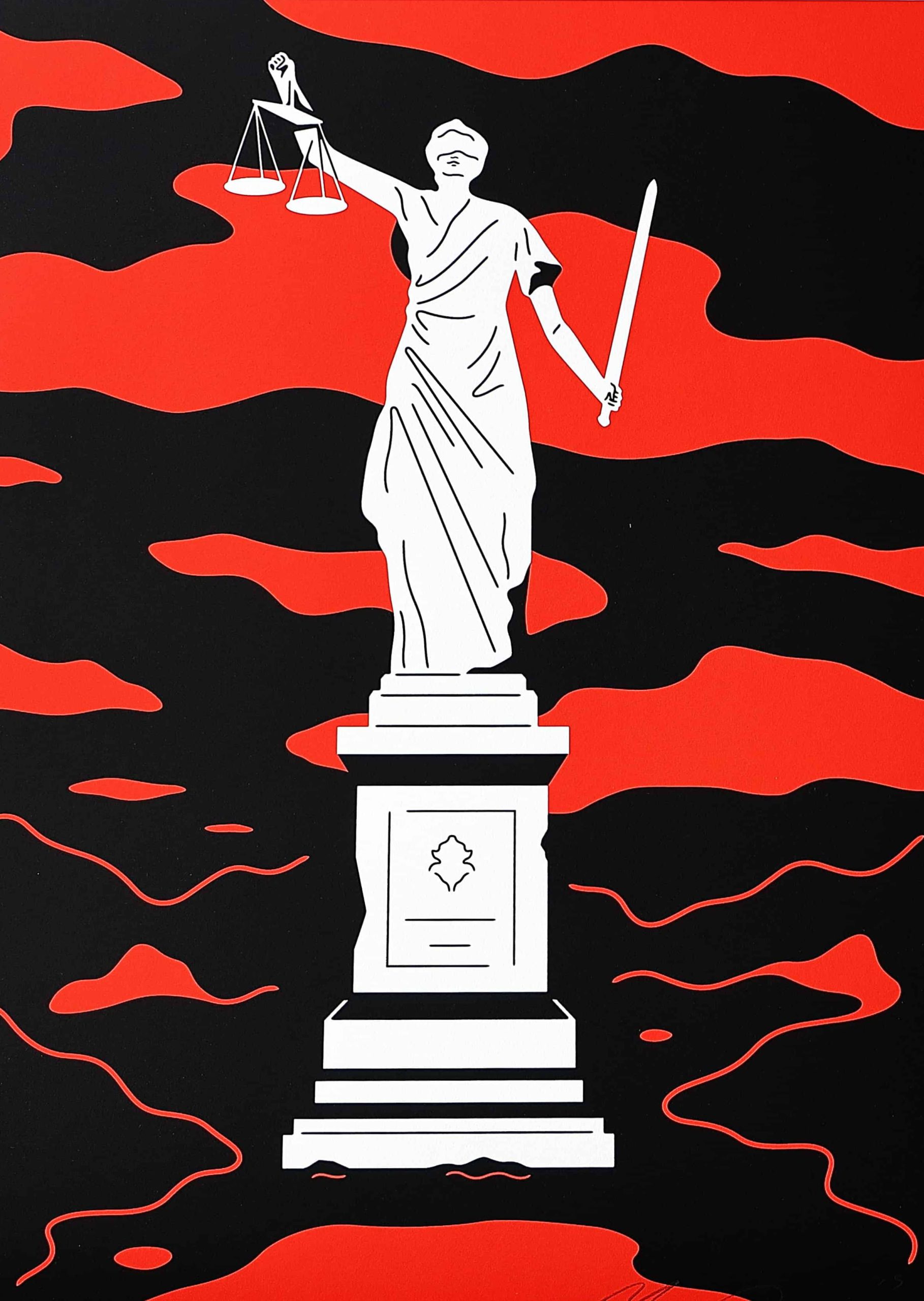 10 Feb

Dive Fearlessly Into The Provocative World Of Contemporary Artist Cleon Peterson

While some might shy away from the violent themes to be found within the work of Cleon Peterson, there is a beauty to not only his striking visuals, but also his unwavering honesty. Who, after-all, could be better to take us on a spectacular tour of our cultural demons than someone who endured a mighty battle with their own, and came out triumphant? Peterson displays mastery of a phenomenal visual style, while drawing upon his own struggles and successes to help us connect with the complexities of our species. The results are powerful, emotive, and often provocative, but they create space for brave dialog, and courage to grow towards something better.
An Unwavering Eye For Injustice
Where other artists may hint at humanity's flaws, Peterson strikes at them head on. His work serves as both criticism of, and commentary on, issues ranging from social injustice to corruption, ego, and geopolitical turmoil. This is achieved through direct representation – be it in highly stylized forms. In Cleon Peterson's world, there is no beating about the bush.
Visually, Peterson's creations echo a heady blend of WWII era graphic design, Greco-Roman motifs, and even the stylized figures and bold color-play of French painter Henri Matisse. He moves fluidly between dimensions, producing works for the page, and creating vast print and sculpture installation pieces. Many of his creations depict violent acts, confronting the viewer with the conflicting experiences of horror and aesthetic attraction. The human power-struggle is core to Peterson's catalog, be it between genders, races, social classes, or simply hulking masculine forms. Through it all, fluid line and flawless composition draw the viewer in, and ask them to step into reflection unarmored, and unafraid.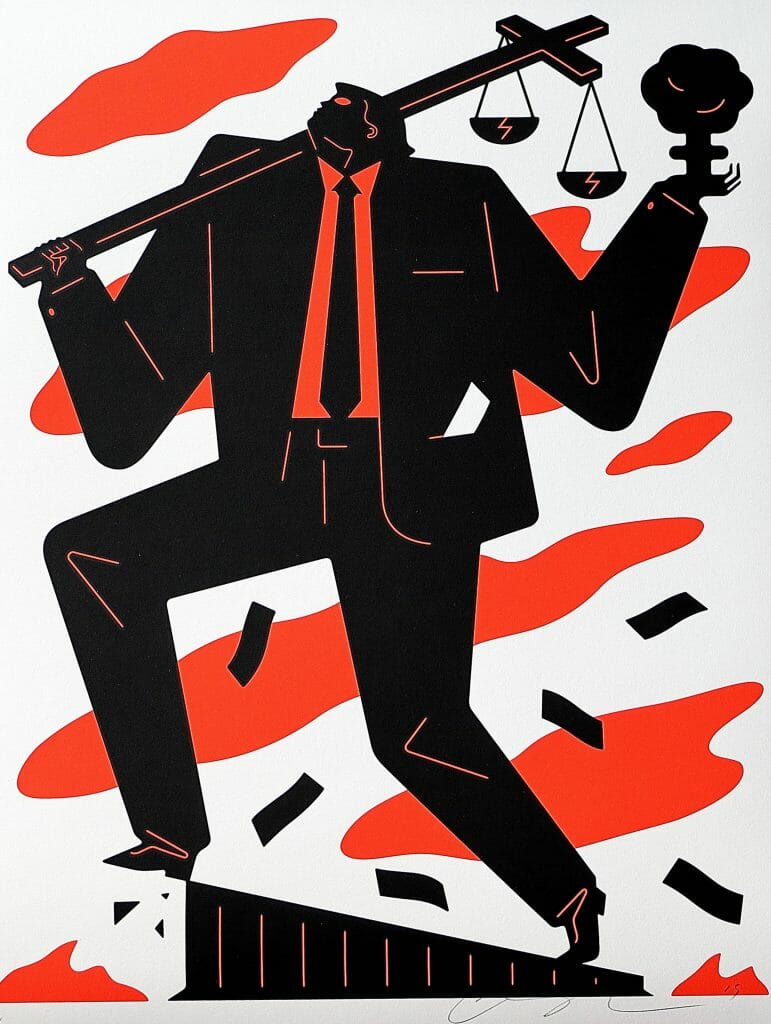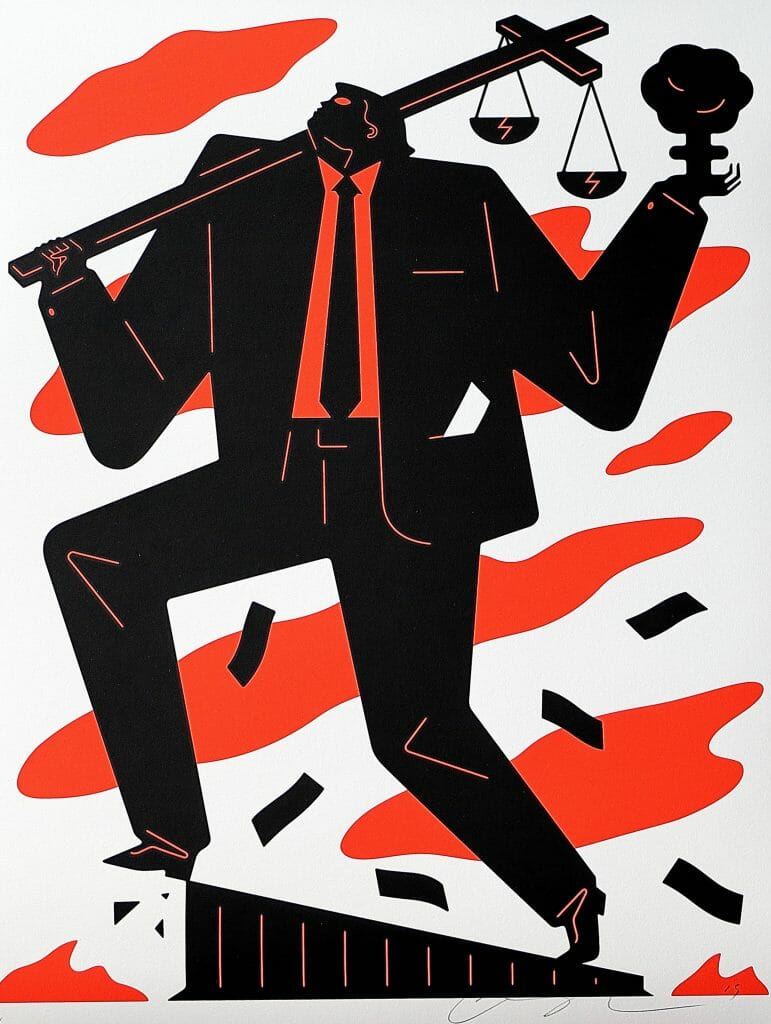 The Story Behind The Art
Cleon Peterson was born in 1973 Seattle, and into a household of creativity and intellectual stimulation. His childhood affection for riding skateboards and reading comic books resonate with his adult creations, although the journey from one to the other was as long as it was arduous. Dogged by mental illness, Peterson was to sink into a protracted personal war with drug addiction. Severe asthma left him highly allergic to oil paints, however the canvas still called out to him. Testament to his determination, Peterson was to not only overcome addiction and psychological turmoil, but to achieve artistic acclaim in quick succession. He went on to achieve a MFA from the Cranbrook Academy of Art in Detroit, and a BFA in Graphic Design at Art Center College of Design in Pasadena. Today, he lives and works in Los Angeles, and exhibits all over the world.
An artist's intuition and a fearlessness in the face of controversy are both, it would seem, family traits. Peterson's brother, Leigh Ledare, rose to international fame as a photographer, taking on taboos, human agency, and social relationships as his subject matter. His images similarly conjure both a sense of beauty, but also of discomfort.
Elena Filipovic, writing for Mousse Magazine, described Ledare's work as
"often sumptuous, saturated with color, and surprisingly beautiful. But they also, and importantly, disconcert the viewer, making us uncomfortable, and, in the process, raising questions about the functioning of the image and the construction of subjectivity in contemporary culture." His initial recognition was earned by a series of images of their mother, provocatively titled,
Pretend You're Actually Alive
.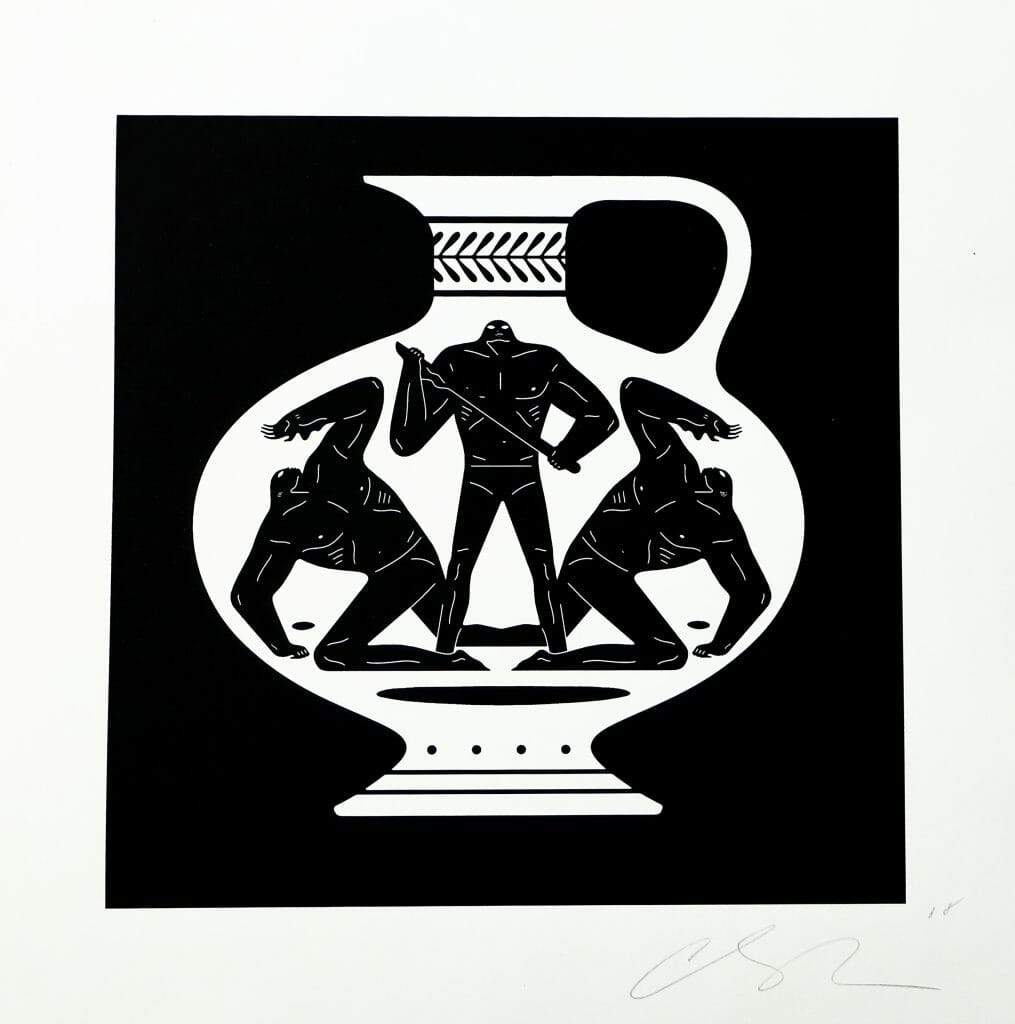 To Contextualize Is To Connect
Returning to Cleon Peterson's often shocking depictions, the influence of Leon Golub, Paul McCarthy, and Mike Kelley, can be felt. We find hostility, police brutality, sexual assault, and other forms of deviance – and unquestionably, while the brutality of Peterson's work may be held to account for the slow initial uptake of his extraordinary talent, it is exactly this brashness that provides such great power in moving the viewer. Importantly, the vast majority of his pieces are presented with very little context, if any at all. The word "disconcert" seems apt once again, but so too does "stimulate". Because we, as beholders, are forced to contextualize what we see, and in doing so define our relationship to the injustice framed within. In a world gone mad, Cleon Peterson stimulates us to clarify our emotional response to human flaws in a way that is strangely uplifting. When we see the world's struggles unfiltered, we can begin to trace a path to something greater, just as Peterson did himself.