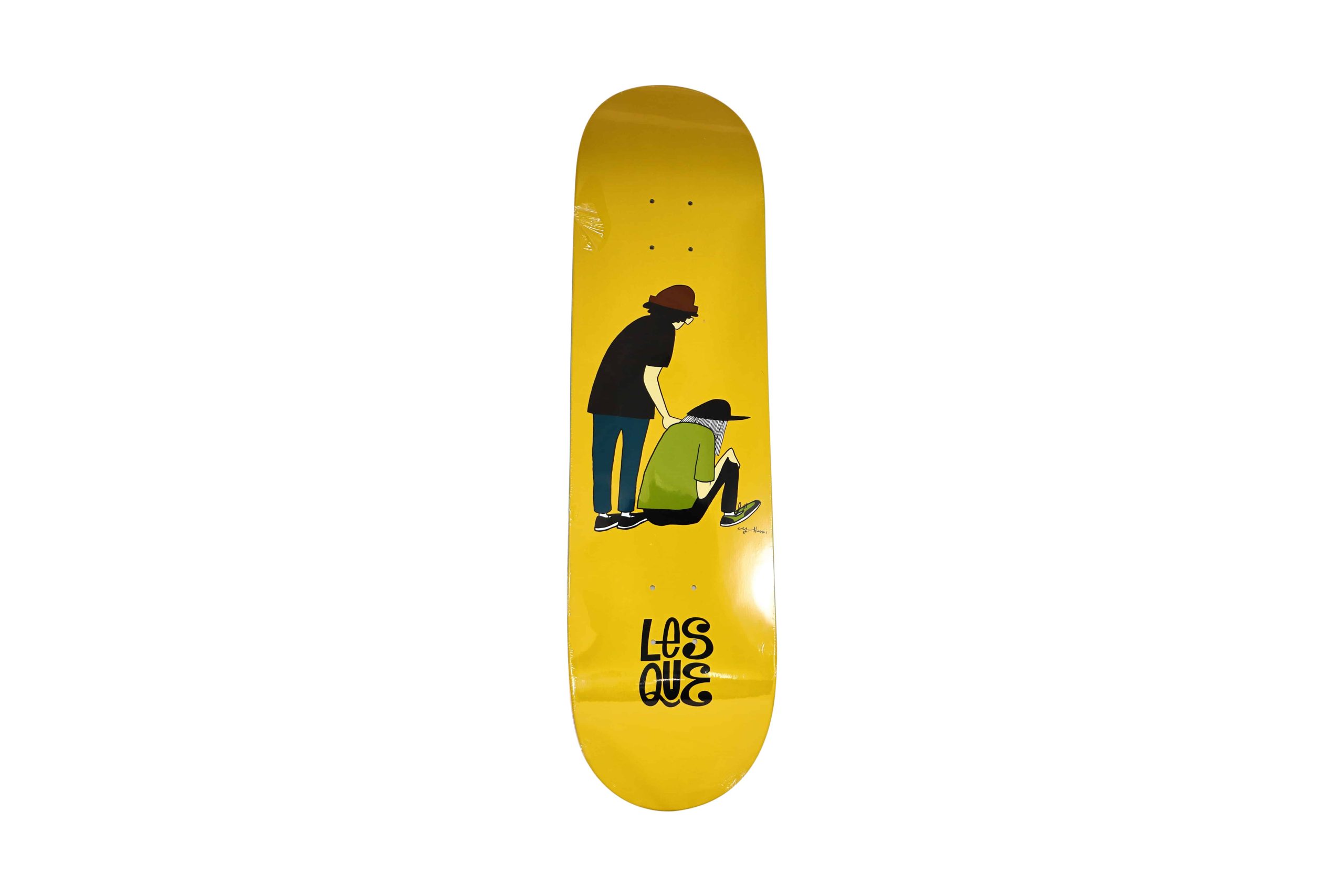 28 Jan

Finding Freedom In Failure With Japanese Artist Yusuke Hanai

The instantly recognizable paintings of Yusuke Hanai are populated by a host of colorful, if somewhat deflated, personalities and bold retro curves. His simplified caricatures somehow manage to hit the nail on the head in terms of what defines the human experience. Rather than focusing on the glossy and glamorous, Yusuke Hanai taps his fascination for those who struggle and fail – as of course we all do. Throughout his work is a lacing of kindness, humor, and honesty that makes the most bleak of facial expressions seem deeply comforting. His creations cross social barriers, boasting exhibits in as far flung places as Australia, Brazil, California, London, New York, Paris, and Tokyo. With his own story tracking all the way from Japan, to the United States, and back again, Yusuke Hanai expresses amusement: "In Japan, people think my art looks American. In the US, people think my work looks very Japanese."
The Magnetism Of Art And Surfing
Born in 1978, Yusuke Hanai had a natural flair for art which blossomed after his discovery of Rick Griffin's Grateful Dead album artwork at the age of 17. He would go on to draw from inspirations ranging from surfer culture to American cartoons, and Tim Burton movies to the writing of Jack Kerouac. However, at this early stage, his parents encouraged him away from an arts education under the belief that it would not help him get work. Unsure what to do with his life, Yusuke Hanai floated from high school into employment at a surfer café, and took to the waves in Kamakura. The café's owner launched a new bar/restaurant called The Road And The Sky, and Yusuke Hanai found himself collaborating with surfing and skateboarding enthusiasts to bring the business to life. Yusuke Hanai took charge of artwork, creating the logo, print products, and signage, and learning how to develop imagery on a computer after a lesson from a neighbor.
After five years, Yusuke Hanai had saved enough money to put himself through art school. A backpacking trip to the United States and Mexico inspired his decision to head for San Francisco, where he enrolled at the Academy Of Art College. Drawn to the beatnik and hippy cultures within the city, alongside the bounty of complex characters living within the foggy urban landscape, Yusuke Hanai set about soaking up the San Francisco experience. Despite mastering a range of applied techniques and building a new perspective on the world, Yusuke Hanai didn't graduate. Instead, he slid into web design and illustration work, launching off from his touch-point connections within the surfing world.
In 2006, when exhibiting at the Green Room Festival in Yokohama, Japan, Yusuke Hanai forged a new bond that would alter his trajectory. Wil Pennartz, owner of The Surf Gallery in Laguna Beach, was entranced by Yusuke Hanai's distinctive style, and invited him to participate in The Happening, a 2007 New York event. This was to mark the beginning of Yusuke Hanai's acceleration into the international art-world consciousness.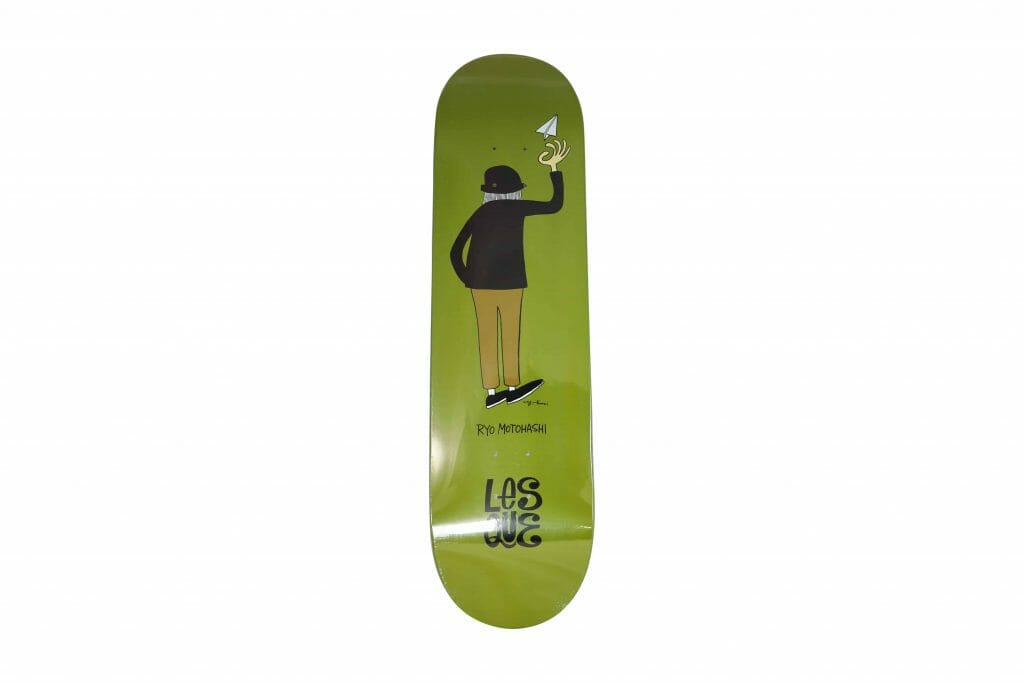 Making A Human Connection
Yusuke Hanai describes his many characters not as portraits, but as attempts to capture the personalities that he encounters. Depicting characters that bare the marks of struggle and failure, he prefers not to explain his work, but rather hopes that viewers will find sympathy and humor within it. He explains, "everyone has problems in life but we have the power to laugh ourselves out of them," continuing on to say "this is why I draw." Yusuke Hanai's honest and yet optimistic outlook can be seen in his work with children, which has included volunteering to teach art to underprivileged kids in the United States, alongside other compassionate creators from the surfing, skating, and punk scenes, and setting up art workshops for kids in Fukushima, together with surfer contacts, after the 2011 nuclear disaster. He also became involved in protesting the construction of a hotel complex in Zushi, Japan, in order to save a local surf spot, with support from fashion brand Patagonia.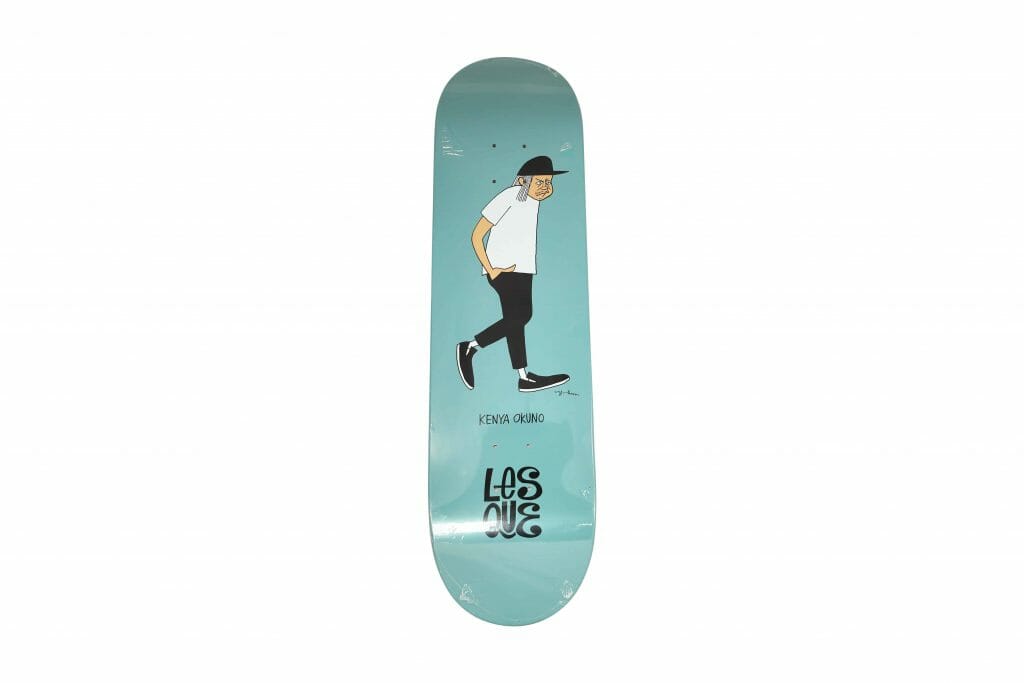 Surf And Skate Connections And Collabs
With such strong ties to street, surf, skate, and travel culture, Yusuke Hanai was a prime candidate collaborator with fashion and footwear brand Vans, and backpacker brand Gregory. In partnership with Vans, Yusuke Hanai contributed designs for surfer-style capsule collections in 2016 and 2019. For Gregory, the artist melded his designs with the brand's signature camouflage motifs. Beyond apparel, Yusuke Hanai paired with Medicom Toys in 2018 to create vinyl figure Mr. Stoop, and most recently with AllRightsReserves to create a limited collection of only fifteen hand-carved wooden sculptures of a seated figure titled Down But Not Out. These were complemented with the release of 200 serial-numbered carved wooden bottles. Yusuke Hanai's classic characters and retro lettering can also be found on a skateboard deck collection released in collaboration with Lesque Skateboards.